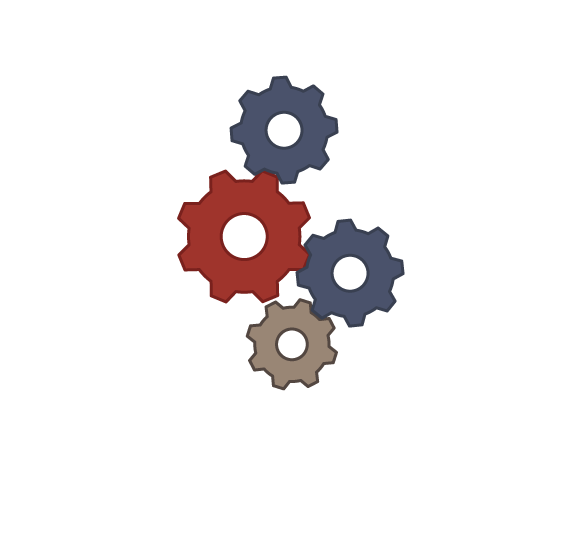 Frequently Asked Questions
About
What is New Music Engine?
New Music Engine is an online system to upload your music online. It creates a hassle free process for the composer to submit, update, and upload a submission with confidence that the opportunity will receive it.
New Music Engine is a great way for organizations, ensembles and musicians to reliably receive submissions online.
How do I know what competitions are using New Music Engine?
Every competition or opportunity that uses New Music Engine will have a link to www.newmusicengine.org.
User Accounts What browsers are supported? Users are encouraged to visit our site with a standards-compliant browser, such as Safari and Google Chrome. The site was written to conform to current web standards in HTML 5 and CSS 3. Users of Internet Explorer may experience layout and formatting anomalies.

What's my password? Your account password is encrypted on our server. New Music Engine support staff is not able to retrieve your password for you, and we will never ask you for your password. You should not share it with anyone. If you forget your password, reset your password here.


What do I do if I can't login?
Please note that login credentials are case-sensitive and cookies must be enabled in your browser to use New Music Engine. In ordert o login, you must also have Cookies
and
Javascript enabled. Note that some browsers ship with these features disabled by default.
Learn how to enable Cookies on your browser
here.
Learn how to enable Javascript on your browser
here.
Read our cookies policy
here.
My page document expired what do I do?
If you hit the BACK button on your browser you may encounter an error that your document expired. Just refresh your browser screen and all should be well. Navigating without hitting the back or forward buttons will also avoid this problem.
How do I upload a picture on New Music Engine?
To upload a picture all you need to do is:
Login to New Music Engine
Hover over on your name in the menu bar and choose "My Artist Profile"
On the subsequent page, choose the edit button.
What is the New Music Engine Privacy Policy?
Our privacy policy is located
here.
How do I make my Artist Profile public?
To make the necessary change, follow these steps:
1) Login to newmusicengine.org
2) Click your name at the top of the screen
3) Click the pencil on the page to the right of your picture
4) Change the privacy drop down to "Public"
5) IMPORTANT: Hit the "submit" button at the bottom of the page

I never changed my account but I received a message from New Music Engine that my account was edited?
New Music Engine has several layers of security for our users. If you ever suspect your account has been compromised contact us immediately.
In order to be a judge on New Music Engine, certain privileges must be granted to your account to have this ability. When an administrator makes this change to your account, our system will notify you that changes have been made.
If you feel that you have been made a judge in error, please let us know by emailing
support@newmusicengine.org.
Submissions
How do I submit to a competition?
Submitting your work to opportunities on newmusicengine.org is really intuitive and straightforward; however, if you run into any problems send an email to
support@newmusicengine.org.
To begin:
Click the name of the opportunity for which you want to submit in Opportunities panel on the left-hand side of the screen.
Click the Submit button in the upper right-hand side of the screen on the subsequent page. If you haven't already logged in you will be directed to do so before proceeding to the submission form.
Next, enter the title and the name(s) of the submission's creator. Then click "Continue." At this point, your submission record has been created and you come back at a later time to edit your submission until the deadline of the opportunity.
Enter your submission information and upload media files, if applicable, one at a time. Click "Save".
Some opportunities permit multiple submissions. To create multiple submissions for an opportunity, follow the same steps outlined above.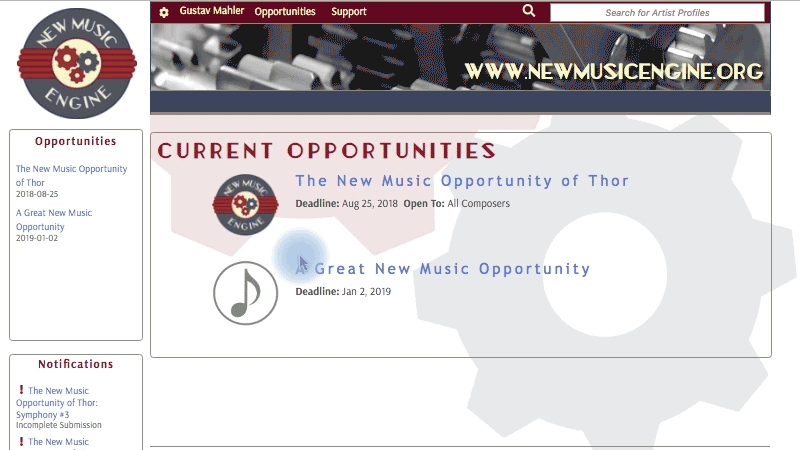 Can I view or edit my submissions?
As long as the opportunity is still accepting submissions, you can verify, edit, and view your submission.
To view your submissions, hover over the
cog wheel
and choose "My Submissions":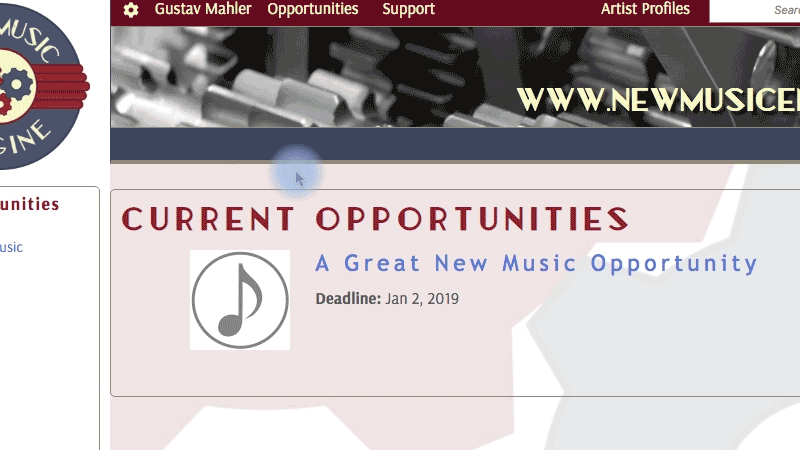 Can I change or update my submission?
You can continue to edit your submission, including uploading a new audio file or score, until the deadline date of the opportunity.
The media player displays a message that my file type is not supported. What gives?
New Music Engine
is designed to support
HTML 5
standards where possible. Of the file types New Music Engin accepts for submissions, the HTML 5
<audio>
tag only supports .mp3 and .wav. It does not support other file types such as .aif. If you see that your media file is not supported by HTML 5, please know that it has still been received and will be adjudicated. The warning message simply means that the HTML 5 media player is unable to play your audio file because it is not compatible with HTML 5. Clicking the download button will either download the file to your computer or open it up in a new tab/window and begin playing using the plugin assigned to play the .aif filetype by your browser.

I received an email saying UPLOAD PROBLEM. What do I do?
If you receive this email, something went wrong during your file upload. To see which files failed to upload and/or attempt to repair the problem, you can view and edit your submission by navigating to the appropriate opportunity using the "My Submission" menu item on the New Music Engine website.
Some things to check when facing upload problems:
Make sure your files are of the correct type. Your audio recordings must be .wav, .aiff, or mp3 files and your score file must be a pdf file.


Remain patient and do not hit the "Back" or "Refresh" buttons. The file uploads may take a long time depending on their size and the speed of your connection to the internet.


Pay attention to the error message you are receiving. There will often be information there that will aid in troubleshooting your upload. The error message you received was:



ERROR: Your submission has been created but it is not complete. The audio file you uploaded is not the correct file type. The uploaded file had a mime-type of audio/x-m4a. To complete your submission, you must re-upload your file. An email has been sent you with more information and instructions.[note error #88089]



Be advised there is a known bug in Firefox that prevents uploaded files passing the security check New Music Engine has in place. Try another browser.


If you are unable to resolve the problem yourself, email support@newmusicengine.org and please include your browser version and any other info that might assist in troubleshooting.


Rest assured that the problem you have run into will not cause you to "miss the deadline", or negatively affect the evaluation of your submission. We are committed to making sure each submission receives the same care and consideration you have put into creating it.